In terms of music as a study, it is more than just performance and learning the way of music. As a music major, I took time to adjust to the inner concepts of music other than performance. When the new year started for the Humanities Collaborative at EPCC-UTEP, I was curious to see what I would be working on next.
Then came being assigned with Dr. Gurrola to help work on her project. When she explained to me her project, I was very interested in the entire project and the process that it was going to take.

After meeting with Dr. Gurrola and our research team's other Undergraduate Research Fellow Daniel Trevizo, it was decided that I would be responsible for translating Felipe Pedrell's works into English. I was provided with language dictionaries and sources to help begin this process. Since I am only fluent in Spanish and English, I knew that translating other foreign languages was going to be a long process. I am a vocalist, and as a vocalist, one of the requirements is learning to sing in different languages. Because of this, I was very confident and optimistic about it. I had many sources to use and Dr. Gurrola for help as well. It was a challenge that I was ready to take.

The first few months I began to translate, it was slow and frustrating. Some words were difficult to find and translate. With those issues, I was suggested by Dr. Gurrola to highlight those words. This was a way to later look back and research the proper translation. There were little mistakes that I would do but I would always make sure and look back at my work. Another issue that I had was aligning the title, subtitles, and chapters of the book. I did not want to write something that was not aligned the same way as the manuscript of the book. I also came across the issue of footnotes, and I was unsure of how to add these and had to ask Dr. Gurrola for help. Thankfully, she taught me several tricks and tips when applying footnotes, citations, or titles of pieces. With her help, I was able to continue comfortably.



An image of sheet music in the early process of translation.

In addition, to the translation process, I had to learn how to write using different accent marks on a laptop and trying to figure that out in different languages was not easy. I had to learn the codes that would work on my laptop so I could add them to specific words that needed an accent. I was also having issues with Microsoft Word not saving my work; at one point, I lost some of the translation that I had been working on and had to start practically all over again. I was able to recover portions of the translation and continued my process.



A screenshot of music translation in Microsoft Word.

What I am glad to share is that even after a rough start, I was able to get translations done from one of Felipe Pedrell's works, a French publication that speaks on Pedrell's Por Nuestra Música. What was fascinating about it was the music accounts of the performances, plus the compositional process Pedrell used when composing the works for his trilogy. Once I completed the translation of the French manuscript, I began to translate the lyrics for the music from Por Nuestra Música. What was interesting about this particular manuscript was that the original publication already had the lyrics written in three languages, Italian, Catalan, and French, so naturally the next process was to translate and embed the English. When I met with Dr. Gurrola to discuss my progress, we found more sources to translate and use for this project. One of the sources we found was a newspaper clipping that containing an interview with Pedrell discussing his effort for his trilogy. We also found a book that mentions the trilogy and its libretto. Our hopes are that we can also translate these findings and add them to the overall project at hand.



A screenshot of an article containing an interview with Pedrell.

The process of translating works in other languages has taught me not only about the music research process, but has also taught me how to evaluate works in other languages that I am learning as a voice major. It is helping me with the performance aspect of music and how I can tell the stories in the pieces I have learned better and so that the audience can understand.

Learning new words in different language, which is honestly the best part of this project, and I can say for sure that I will benefit greatly from understanding other languages and will also help me to become fluent in them, all while expanding my knowledge of foreign languages. With this new skill, I will be able to translate my music based on my knowledge.

Another benefit that I have received while working on this project is my interest in musicology itself. Musicology is the study of music based on scholarly research, and this project has raised my interest in researching music and gaining this experience is beneficial for my later studies. In fact, I might even consider adding musicology as part of my music studies and might even pursue a degree in musicology sometime in the future.

When you translate one language to another, not only are you multitasking, but you are reading in one language and finding its translations and making sure that the translation of the words fit together in the sentence structure and with what the composer is referring to in terms of music. Once you have translations, you're then working on the language you are translating to. Sometimes, you can get words them mixed up because you forget an accent or because there might be multiple meanings of the same words, but in my case by checking my work every time and reading the sentences as a whole versus each word, I was able to make sense of the composers' words. Using the language dictionaries I received, I began tabbing the alphabet of each dictionary; this helped me find words much faster and be able to access certain words quickly. I also began writing down common words and their translations. After a while, I did not have to use that list of words because I had already memorized them. I also began translating small portions at a time as to not overwhelm myself. I would also mark down the page I left off on to keep track of what I had already translated.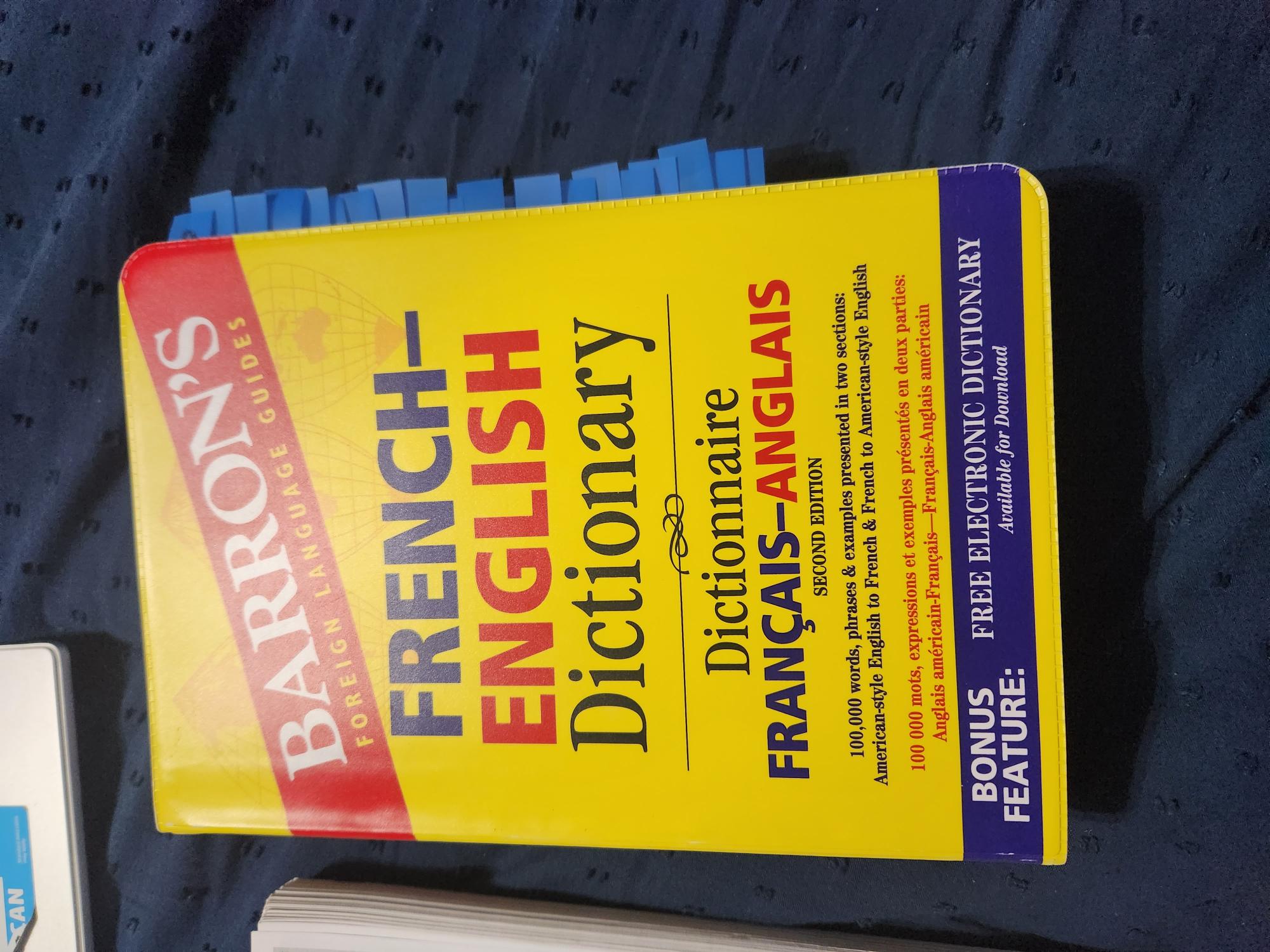 Image of a fully tabbed French-English dictionary.

This project has given me lots of different experiences, some good and others bad, some slow, others fast. However, it is one of the most interesting experiences that I have had. I never thought that I would have to learn how to translate and learn in a different language. This project has changed my perspective on how music is more than the way it is composed and its performance perspective. I am grateful for the guidance and support of Dr. Gurrola and teammate Daniel Trevizo. Without them, I would not have been able to bring the translation element to this project. I am also grateful to The Humanities Collaborative for giving music history a chance to expand on the research Dr. Gurrola started when she was in graduate school. Not only will this bring more light to the field of musical history, but it will also showcase the work of a great composer and musicologist that has yet to be discovered.

Written by Ashley Y. Garcia, Undergraduate Research Fellow
El Paso Community College, The Humanities Collaborative at EPCC-UTEP

All images courtesy Ashley Y. Garcia.